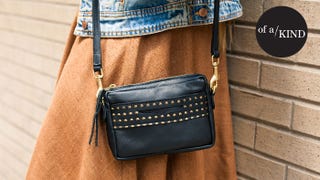 A black leather shoulder bag—how fresh can that be, right? Well, if you ask this one, it can be pretty exciting. Really! Get this: With the code PENNYPLENTY, you can scoop up this guy for $10 off.
The design is a riff on the ultra-classic penny loafer (as in, the shoe)—with some painted gold polka-dots and brass hardware to keep things from feeling too straight-up, Carlton Banks preppy.
You know what else is great? The size—it's big enough to hold a notebook, a wallet, your keys, whatever product you use to keep your lips from falling off as the weather gets cold and dry. And, the little exterior pocket keeps your phone accessible—so you don't have to go unzipping and digging every time you get an Instagram notification.
Score this sucker for $139 right now with the code PENNYPLENTY.
In fact, feel free to use that same PENNYPLENTY code for $10 off anything from Of a Kind until 11/22.