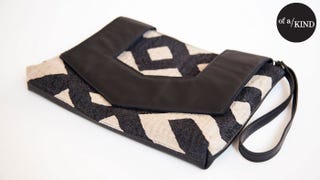 This is one of those bags that jazzes up anything you wear it with—T-shirts and jeans, even. And, hey! It can be yours for $10 off with the code FINEPRINT.

Somehow, this clutch has a whole lot of personality without being loud or obnoxious—it's like Emma Stone in wristlet form. The silk-and-linen jacquard fabric is special but not out-there.
You know what else is stellar? Having a wrist strap, so that you don't have to master the art of tucking it under your arm...or risk leaving it in the back of a cab.
If you're ready to have this sucker in your life, you can get one—there are only 50 in existence!—for $172 with the code FINEPRINT.
Score anything you want from Of a Kind for $10 off with that code until January 31, in fact. FINEPRINT is where it's at.