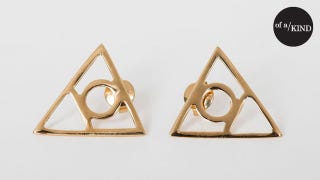 These earrings are angling for your attention. Yah, that's a geometry joke—go with it. And, while you're at it, score a pair for $10 off with the code SHAPEUP.
There's no flash or sparkle to be had here—just some triangles and circles that, in gold, make a real statement.
And how about this: They're handmade in Toronto by Alynne Lavigne and Eve Tobolka who, after running into each other at party after party, decided it was time to be pals. Where do they get inspiration for their jewelry line? Tina Turner in Mad Max and dirty-girl rap.
If you're ready to make these studs yours, scoop up one of just 40 pairs for $68 with the code SHAPEUP.
Heck, you can use that same SHAPEUP code for $10 off anything at Of a Kind until January 17, even.