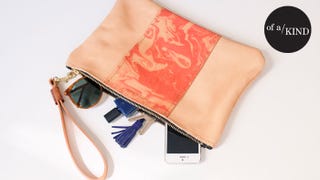 Just so you know, clutches don't have to be dressy—shoved in a drawer until the appropriately schmancy wedding comes along. They can be Tuesday night (or Sunday A.M.) go-tos, ideal when you can't handle the thought of lugging a big ol' bag. Get yours for $10 off with code SOCLUTCH.
---
This clutch, made by Scout & Catalogue just for Of a Kind? It's totally ready to be the thing you reach for all the freaking time. The designer, Breanna Musgrove, marbles the leather herself to create that super-attention-grabbing center panel, and then she makes each clutch with her very own hands (which, if you were wondering, reside in Vancouver).
It's not so teeny that it only holds a lip balm, a credit card, and your house key. But it's also not so big that you feel like you have a suitcase hanging off your wrist. That's all to say: It's basically the Goldilocks-approved perfect size.
What are you waiting for?
Click here to get yours while you can for $120 with code SOCLUTCH. There are just 70 in the whole wide world.
(And if you use the code SOCLUTCH at checkout between now and October 11th, you get yourself $10 off this or anything else you buy at Of a Kind.)
Shop is from the biz minds at Jezebel (so to be clear, this is not editorial). Every once in awhile, we'll bring you content about unique products or stores. Today's contributor is Of a Kind, an NYC-based startup that curates products from fresh, independent designers.