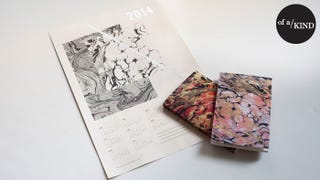 No disrespect, Google Calendar and iPhone Notes thingy, but sometimes it helps to actually write things down. And this made-in-the-U.S.A. trio that'll get you organized stat is $15 off with the code PAPERTRAIL.
There's a grayscale calendar that would look stellar stuck to the wall of your bedroom or your cube, reminding you when your next vacation is.
There's a fancy, marbled planner that will make you want to schedule drinks outings more than you already do.
And! There's one crazy-sleek notebook that'll up your meeting game, whether you're writing a to-do list or, er, doodling.
Like what you see? Good. $45 for all three with the code PAPERTRAIL until March 7.