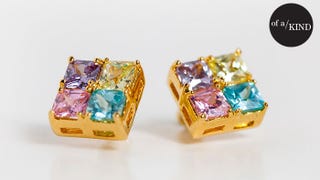 Hoops and those dangly situations seem to have all the fun in earring-land. Well, NOT ANYMORE. These studs are itching for a good time—and you can get a pair for $10 off with the code STUDLY.
First, you should know that pastels aren't just for spring—they're for brightening up those gray days ahead. ("Yes, they're coming," says the extra hour of sleep you got on Sunday.)
You know what else is on the horizon? Holiday parties and all that festiveness. Pop these in your lobes, and, hey! Look like you tried without putting on any sort of shimmery makeup or shoes that really aren't meant to be stomping on frozen sidewalks.
What are you waiting for? Get these four-color crystal guys for $63 with the code STUDLY.
And, while you're at it, peruse the other good-looking stuff for sale at Of a Kind—the code STUDLY will getcha $10 anything on the site until 11/15.