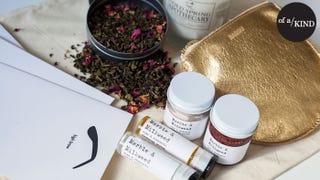 Do you need to land a cool, thoughtful holiday present, like, yesterday? Scoop up one of these grab bags—there are versions for girls and boys—for $10 off with the code GRABANDGO.
For the guys—your brother, your roommate, the dude you're dating but not in a serious way—there's an awesome-smelling candle from Good Candle, a simple wooden tie clip by The Postmodern, a three-pack of Swedish camo notebooks by Word., some delicious Guinness marshmallows by Wondermade, and a boatload of shaving stuff from Imperial.
How 'bout the girls—your work bestie, your cousin, your brother's fancy wife? Well, they get a slick, gold leather pouch by Baggu, punny High Brow cards by Walk Up Press, tasty gunpowder and rosebuds tea by The Cozy Leaf, a candle by Cold Spring Apothecary, and a whole set of facial stuff by Marble & Milkweed.
Go ahead and use the code GRABANDGO to get one of these suckers for $80.
And, what do you know? Of a Kind is a stellar place to finish up any other holiday shopping you need to get done. In fact, you can apply that GRABANDGO code for $10 off any orders you place until 12/27.