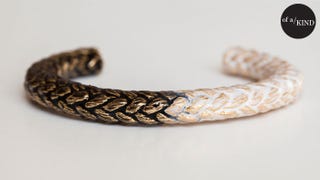 What's black and white and rad all over? This bracelet—which can be all yours for $10 off. All you gotta do is enter the code HALFSIES at checkout.
How do you make a bracelet like this? Well, if you're Orly Genger and Jaclyn Mayer, you start by casting a piece of rope—here's the two of them sitting on a massive pile of the stuff—in metal. Then you plate that in gold and have a little fun with some B&W enamel.
The result's out-there cool, but the super-simple shape makes it easy to slip on with pretty much anything. Which, if you're anything like us, is what you're looking for in some jewelry.
Like what you see? Get yours—the designers only made 50!—for $130 with the code HALFSIES.
And if you feel like browsing around Of a Kind while you're at it, you can enter that HALFSIES situation at checkout for $10 any purchase through 12/6.