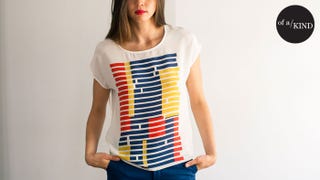 Not since your crayon-eating days have primary colors looked so appealing. And this so-easy-to-wear, ridiculously cool silk tee can be alllll yours for $10 off with the code POWEROFTHREE.
What's so great about this sucker? Well, it's made in Brooklyn by the super-talented designer Rachel Rose, who knows her way around the color wheel. There are only 50 of them (like, in the world), which means you won't run into—and give stink-eye to—three girls wearing it on your morning commute.
And it's VERSATILE. It's dope with jeans. It looks slick with a bright skirt. It can hang with a blazer.
Now's your chance: Grab yours for $110 with the code POWEROFTHREE now.
And, while you're at it, poke around Of a Kind: That same POWEROFTHREE coupon code will get you $10 off anything on the site through 10/25.