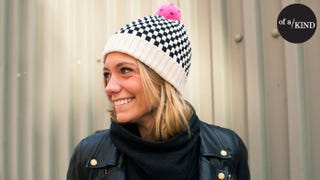 Not to get all fear-mongery on the gift front or anything, but if you have holiday shopping you need to do, well, there's no time like the present. Get these (limited-edition!) Of a Kind scores for under $60 with the code GIFTGUIDANCE, and spend the next two weekends guzzling eggnog.
Metallic Leather Tangram Coasters
The most entertaining coasters ever—this leather set by Project Room comes with a rundown of the shapes you can make with them. Buy for $65 $55 with code.
Starling Necklace
Handmade in Richmond, Virginia, by Academy Jewelry, this sucker adds some metallic jazziness to a getup without being at all glitzy. Buy for $45 $35 with code.
Marilyn and Yoko Earring Duets
Who said earrings have got to match? Certainly not Bing Bang, who made the idea of pearl studs a whole lot cooler. Buy for $68 $58 with code.
Kids' Chambray Dress
Yah, we wish this polka-dot situation by Mabo Kids came in big-girl sizes, too. Buy for $58 $48 with code.
Black and White Hats
Come on now: How could you not feel better about a dreary winter day if you pulled on one of these ALL Knitwear hats with its cheery pom? Buy for $60 $50 with code.
Rope Ear Cuff
All the fun of an extra piercing without a needle through your cartilage. Also, it should be noted that this Feliks + Adrik creation looks especially good with messy hair. Buy for $60$50 with code.
Organic Aloe T-Shirt
Ugh, shopping for boys. This Baron Wells tee is special—hand-painted!—but chill enough just about any guy to wear. Buy for $62 $52 with code.
Afternoon Collection Necklaces
These Alyson Fox guys look good with jeans and a T-shirt. Which means they cover up for days when you can't handle the thought of getting dressed. Buy for $58 $48 with code.
Willis Lizard Wallet
Pretty much anyone would find this slim Eayrslee wallet useful. But it's especially perfect for college kids who need a place to shove an ID and a little cash. Buy for $68 $58 with code.
Sliding Shapes Necklace
Got a friend who's afraid of color? This Cursive Design necklace is a good introduction. You can tell her that the big bead is denim, not blue—so it's definitely neutral. Buy for $68 $58 with code.
Astral Bent Top Vase
This handmade stoneware number from A Question of Eagles looks best with just one stem sticking out the top—which means no flower-arranging skills are required. Like, at all. Buy for $65 $55 with code.
Silver Paint Party Clutch
Like its name says, this mrs Jermyn bag ready for a party. And, thanks to its canvas material, it can handle any accidents that result from dancing with a drink in-hand. Buy for $68 $58 with code.
Cross-Stich Necklace
Who knew cross-stitch could look so good? Bet your mom would be totes impressed with this made-in-Chicago Do Re Mi design. Buy for $65 $55 with code.
Want to do more exploring? You can use the same GIFTGUIDANCE code for $10 off anything from Of a Kind until 12/2o.