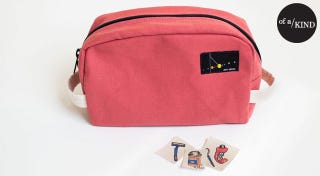 Show those three-ounce containers who's boss. Get this slick, good-looking toiletry bag for $10 off with the code WILLTRAVEL.
If you're in the market for a V-day gift—for a boy or a girl—this sucker's there for you. Maybe stick a fancy-smelling shampoo inside? Or, if you're a serious baller, a plane ticket to somewhere warm and un-wintery?
It makes a damn good present for yourself, too. It's unfussy, but it's polished—the canvas exterior looks jazzy sitting on a bathroom counter, and the nylon lining protects from any sunscreen explosions.
Heck, it even comes with some cheeky temporary tattoos that'll provide some short-term entertainment when your Netflix queue starts dwindling on these February nights.
Whatcha waiting for? This guy's yours for $80 with the code WILLTRAVEL.
In fact, use that WILLTRAVEL coupon code for $10 off anything from Of a Kind between now and February 14.