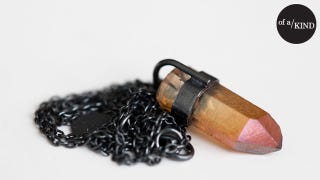 Don't you dare call this necklace sweet. But do get your hands on it—for $10 off—with the code DARKCRYSTAL.
If this sucker was in an eighties movie, that peach aura quartz crystal would absolutely unlock a secret passageway that Mikey, Andy, Chunk, or Data would slip through to find ancient treasure.
Hanging from your neck, it's still plenty awesome. That oxidized silver chain is tough in an office-appropriate way, and each of the stones is hand-picked by the Portland-based designer Sara Dudzinsky of Better Late Than Never—just check out her Instagram to see how she gets it done.
What are you waiting for?Land this necklace for $130 with the code DARKCRYSTAL.
Feel free to use that same DARKCRYSTAL code to get $10 off anything your heart desires from Of a Kind now 'til January 24, in fact.