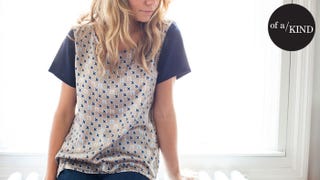 Aw, screw the button-downs. This weekday-approp silk top can handle anything, and it can be yours for $10 off with the code WORKIT.
This time of year, you have to prepare yourself for, like, four climates: the one at your casa, on public transit, on the walk to score caffeine, at your desk. And this very layerable silk number will keep you from sweating through your outfit before you even chug your coffee.
Made in L.A. by the sisters behind Kain Label, this sucker is all set to be tucked into work pants (er, trousers), but, hey, guess what? It also looks rad with jeans. So there.
Now's your chance to scoop up one of the just 40 in existence! Get it for $115 with the code WORKIT right now.
Also, you can use that same code WORKIT for $10 anything from Of a Kind until November 29—in case you happen to be in the holiday-shopping zone.